568357 Alfred Allsopp left home (Dublin) age 15 to join R.A.F in 1935. 3 years apprenticeship at No 1 school of technical training at R.A.F. Halton. Passed out as Aircraftsman 1st Class. Trade fitter 11 (Group 1 trade covering engine & airframe) one of Lord Trenchard's Brats.
He visited us at Acklington just after 152 Sqdn had formed. The squadron paraded in the hanger, aircrew in front, groundcrew in rear, he dismissed the aircrew and said he would see them later. He then ordered us to break ranks and gather round. We then got a "pep" talk basically on the lines, the aircrew cannot do their job properly if we did not do ours properly- it all depended on us!!
As he talked he hooked his walking stick round the back of his neck. I met his rigger later, (he travelled in the D H Dragon Rapide with Lord Trenchard) and he told me he always did this when he talked to the groundcrews, it sort of "cut the bull".
My initial Sqdn posting was to 72 (F) Sqdn at Church Fenton in Yorkshire. Here, after a discussion with the Flight Sergeant in charge of "B" Flight as to whether an airman could possibly have both trades he decided I would be engine fitter and I was given a Gloster Gladiator with a Bristol Mercury 1X engine. K6138 was the aircraft number. Later I was to modify the aircraft for overseas service and it finished it's life in a meteorological flight in Egypt, the happened after an argument with the Sgt fitter of the flight, the pilot complained of severe vibration from the engine, knowing "my" engine I suggested it could be the propeller out of balance. The Sgt fitter disagreed and I had to do a complete service on the engine. No better! After about 5 days of this the Flt sergeant took an interest came out of the office and asked me what was wrong I told him and said " I think it's the prop" "then change it" he said. So I did. Test flight and success, the Sgt fitter never spoke to me for a week!!
My usual pilot was a Sgt Norfolk but one one occasion K6138 was flown by our new Commanding Officer Sqd Ldr Lees, what an honour!! He said he was brand new, and had borrowed my aircraft to fly round the sector, to find out which was the right railway line to follow back to the aerodrome. A gentleman- until he landed that is!! My aircraft was spotlessly clean and he landed in a large puddle- (grass aerodrome – no runways) He obviously saw the expression on my face " I'm sorry he said. " I did not see that, if I had I'd have hopped over it!"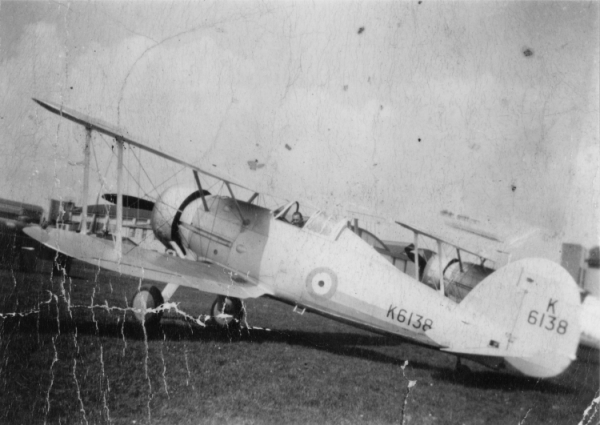 When I was posted from 72 Sqdn in October 1939 the C.O. Sent a personal message down via the Adjutant explaining my posting was a named one, not post a fitter but post 568357 AC1 A.Allsopp the adjutant was F/O Derrick later a Battle of Britain Ace, as was many others of the Sqdn pilots. The FL/CO was F/LT Graham who ( I have been told) with his No 2 attacked a large formation of German bombers over the Midlands on their own . Later after I was posted to 152 Sqdn which was forming at R.A.F Acklington, heading south to the Battle for Britain stations. In fact we refuelled and met many who were to become famous & heroes, 43 Sqn 111, and of course 72 Sqdn.
One of 72 Sqdn burst a tyre on landing I was in 152's maintenance flight and my F/Sgt called out- "Allsopp- spitfire, burst tyre, get a spare, on your way into the van spare wheel, spanner and spilt pin. Off I went, arrived at the scene 6 of the pilots sat on the wing opposite side to the flat tyre, the other 6 got under the other wing ready to lift the wheel off the ground after I removed split pin and the retaining nut. A voice from above said "I thought they'd send you Allsopp" Sqdn/Ldr Lees. Later on I was stationed at R.A.F. Snailwell with 152 Sqdn and I had been made up to Corporal. A spitfire landed and taxied up to our dispersal point. It had cannons on it! I must have a look at that I said to myself over I go and started looking. A voice from the cockpit- "look after my aircraft please Cpl Allsopp" Group Captain Lees! Later to become Air chief Marshall R. Lees. Equerry to her Majesty the Queen.
72 Sqdn had a reunion at R.A.F Benson after the war and it would have been the highlight of my life if he could have been there and had remembered me. Unfortunately he lived in Australia and had boarded the plane to come here and had a heart attack and died. However the ex adjutant was there and he came up to me put arm round my shoulders and said "great to see the old faces again" group Captain Sheen. I think what I am trying to describe is the spirit that existed before the war. Your Squadron was the best in the command from the groundcrew upwards. Ranks still existed and were suitably acknowledged (except the technical F/Sgts who preferred to be address as "Chiefy") all but the flight Sergeant Discip he was stand to attention when you speak to me!
Once one had been marched to work and dismissed outside the hanger doors, one bought the Daily Mirror at the door, you entered and overalls on and started your daily inspection on your aircraft, completed, over to the office to sign the form 700 or report any snags you may have found.
Each aircraft was serviced by it's own crew, a fitter for the engine and a rigger for the airframe, instruments, electrics, and armaments were covered by separate sections. We all did periodic inspections, standards of which were governed by the number of hours flown. All this was entered in full detail in the individual form 700 for that aircraft which the pilot had to sign before flying that aircraft.
Being a group 1 tradesman my rate of pay was higher than most of the others (Flight mechanics and Flight riggers) and I was more than a little surprised when it came due for my aircraft's periodic inspection the number of chaps volunteered to help me changed the oil and sparking plugs etc. But that's the way it was pre war!
When the squadron was re equipped with spitfire Mk 1's was a busy time for the groundcrews, from radial engines to liquid cooled in line engines wooden props to metal bladed, all metal wings and fuselages , retractable undercarriages. The undercarriage system had an electric horn fitted behind the pilots head rest and I have actually stood outside the hanger at Church Fenton and watched an aircraft land with undercarriage up and heard the horn blaring away clearly. The horn was de activated when Down was selected by the undercarriage control, initially on the early spitfires the hydraulics were hand pumped up and down and occasionally with a low hydraulic pressure the pilot would find it difficult to go from up to Down and to avoid this could try a couple of pumps by hand in the Up position and a quick change to the Down. A wheels up landing by the early spitfires caused an awful lot of damage, the air intake was later modified, because when it hit the ground it would likely crack the supercharger casing. The airscrew (all metal) the blades would bend. We had quite quite a number of 3 legged octopuses in the corner of the hanger.
One Sergeant pilot, I cannot remember his name, crashed into the side of a hill in a very thick fog and I was on the gang sent to salvage the aircraft. A Flt sergeant Noel was in charge. On arrival at the scene Chiefy made a quick assessment. He handed me long handled axe and told me to cut through the fuselage behind the pilots seat. As I did this he stood a short distance away and spliced a sling to lift the fuselage on to a low loader. It was an interesting incident and a real education to witness Chiefy "Father Xmas" efficiency the "old boys" would and could cope with all sorts of emergencies.
Another outstanding memory of 72 squadron was the opening of Derby airport. The princess Royal arrived in a De haviland Rapide , she exited the aircraft, which swung round and taxied away blowing the skirts up in the process. 72 did a fly past with 12 spitfires a perfect formation which included many who were to become Battle of Britain heroes one being Flying Officer Nicholson V.C.
I was sorry to leave 72, I was proud to be a member of it.
152 Squadron memories
Going down to Amble stopped at main gate by Flt Sgt of R.A.F. Police "Do you know how many times this car has been out today" the driver (Me!) No, flight sergeant - "twice", I don't know were you get your petrol from but could you give me a lift to the railway station ?
Reference petrol- there was a Hawker Hind in the corner of the hanger, Rolls Royce Kestrel engine which used DTD 240 unleaded petrol as opposed to the DTD 100 which the spitfire merlin used, it suited the engine of the 1929 Swift.
On the mudguards of the car was painted Willies Wheel, Doug's wheel, Wally's wheel & spare wheel. The car was parked out the back of the hangar and was regularly serviced by the owners. Willy Martin decided the brakes required re-shoeing so he removed the brake shoes complete and put the wheels back on to support the car. Did he tell Alf NO! Alf goes down to Amble clear road! No trouble! To stop- he had to drive up a long lane changing down to bottom gear and use the engine to stop us by switching it off.
The Hawker Hind top tank was frequently topped up! However Wally Dale still thought it would be a good idea to have a 5 gallon container filled and stored away. He found an empty? Dope can which he decided to burn out any dope left inside. Being a careful chap he poured a little petrol in, soaked a piece of rag on the end of a long piece of tubing with petrol and lit it, manoeuvred it onto the filling hole in the container and tipped the rag in! It did not catch fire immediately so it stood on the tarmac away from the hanger doors. Nothing happened! Eventually we moved a little closer, finally brave Wally (he was the Corporal) had a closer look. He lost his eyebrows, eyelashes, and his 11 aside moustache!!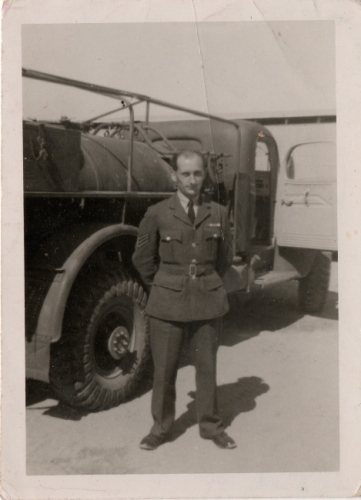 We were all ex Halton apprentices and the comradeship was great, various modifications to the aircraft occurred, one I remember was to the carburettor on the Merlin engines. It was decided by the powers that be that the slow running jet in the carburettor was not big enough and a bigger one should be fitted. The aircraft were grounded, Flight Sergeant Bowen (Chiefy) suggested the present fitted ones could be removed and jet aperture increased in diameter with a broach until the recommended amount of fuel flow was achieved. Big mouth- (Alf Allsopp)-immediately said we would need a jet calibrator to do that! Chiefy just looked straight at me and said "right" "your a Halton Brat, make one" so Dougie Brown and myself built one. Chiefy checked it out and provided the stop watch, went back into his office and typed out the instructions, came out and stuck them on the workshop wall. It was never used, many years later as I passed through Acklington with 350 Sqdn I went over to the hangar and on the wall was instructions for use of the "Brown & Allsopp jet calibrator" "good old chiefy" great moral booster. His motto was you should be either working in the hanger or in bed in the billet.
I remember changing the cylinder clock on a Merlin engine fitted to a spitfire at 2 o'clock in the morning with Dougie Brown, Dougie was a a big strong bloke so with a couple of ladders to stand on he could lower the new clock on while little me standing between his legs could feed the pistons into the cylinders. We were singing? Songs from the operas!! when a voice joined in Chiefy Bowen with two cups of cocoa (laced with rum or scotch) Doug & I once changed a prop one night, by building steps up with tool boxes, we had rung for a crane from the M.T. Yard but the crane driver refused to come because our sergeant fitter had shouted at him so much he'd completely lost his confidence as a crane driver.
Chiefy Bowen was a superb F/Sgt. I remember when I did an inspection on a spitfire which included changing the oil cooler I found one of the pipes feeding the cooler had been pushed to one side to clear the cooler and was badly kinked at the bend, so I removed it. To obtain a new one I had to show it. Chiefy and obtain a new one from the stores, chiefy's office he shared with the engineer officer. So a knock on the door and enter, held up the pipe and said "Ok" chiefy change ? From chiefy "Yes" engineer officer ? "wait a minute Allsopp" turning to chiefy "I am surprised at you, flight sergeant you ought to know better, it does not matter how much you dent or bend a pipe it still passes the same amount of fluid" "put it back on Allsopp" "yes Sir"! Out of the office down to stores, new pipe and fitted it.
Later chiefy appeared and said to me where's the pipe? "In the store" I replied. A few weeks later I'm boarded for my leading Aircraftman, chiefy and I walked up down in the hangar and discussed what's for dinner, the weather, and the football results and I became a leading Aircraftsman.
Writing about the hanger reminds me of F/SGT Barnes. I was on guard duty at the main gate when he came to join the squadron, I was booking people in, he came to window I was at and said is W W one F F Five T T Two Squadron here. To which I answered yes F F Flight S Sergeant. I could not help it just happened!! He never forgave me. One day we were pushing a Gladiator out of the hanger and Chiefy Barnes was in charge. The aircraft is pushed out tail first and steered by a steering arm fitted to the tail wheel. We were all heads down and pushing (about 6 of us). Suddenly we heard M M Mind that- too B B Bloody "late"!! we had gone over an one gallon oil can, we just laid on the floor and cried with laughter.
Years later I was in charge of the crew servicing the aircraft flown by the last of the first of the few at the Victory parade at Northolt. When we arrived I had to report to the station engineer officer Guess Who ? F/LT Barnes, he looked at the three stripes on my arm and said "You been a naughty boy?".
152 Sqdn first C.O. SQ/LDR Shute was lost over the sea from Acklington flying in a Gladiator. I was on guard duty the evening he arrived in his jaguar type (King of the road headlamps) he was the image of Leslie Charters "Saint". Whenever I think of him I wonder about his loss, when you started up a Gladiator you started up with "gravity" selected on the fuel cock- when the engine started running you switched to mains. This was a bit of effort as the fuel cock was a bit stiff. His flight time was approximately same as it would take to empty the gravity tank.
Working in the hangers we seldom saw anything of the pilots, the C.O. Possibly occasionally. P/O Wildblood came in once and told the story of 11 spitfires chasing a Heinkel 111 across the channel and it getting away!! One of services done in the hanger was the synchronising of the gun sights and the guns, the aircraft was jacked up to flying position and the guns (8 of & gun sight) aligned to targets painted on one of the hanger walls, once after a service an armourer released springs and one of the guns fired one round which just missed the engineer officer. He was punished for his incompetence and told off by the lads for missing the engineer officer (He was not popular).
I can remember two incidents regarding the accidental firing of guns, one was at Acklington. I think the aircraft was a hurricane of a visiting squadron being pushed along the tarmac in front of the hangars, someone shouted "Brakes" and an airman jumped up to cockpit to apply the brakes grabbed the control column to apply the brakes and pressed the firing button which obviously was not on "safe", so 8 guns fired a burst, nobody was hurt but rumours said cattle were injured ¾ of a mile away. He was an instrument repairer , probably would not notice the firing button was not on "Safe".
The other incident was with an American aircraft ( I think a Boston) it ½ guns in the fuselage nose, firing button electrically operated , cockpit canopy not properly closed, it rained water dripped onto the control column , short circuit, same rumour was heard!! more believable , the range of a 0.5 inch browning was longer.
Writing about guns reminds me of couple of things, the gun apertures on a spitfire's main-plane were sealed with a linen patched , doped over, if the pilot had fired his guns you could hear a whistling noise as they came into land. Another gun tale was at Swanton Morley with 152, we had our annual rifle shooting exercise . At that time there rumours going about the German paratroopers dressed as nuns landing on aerodromes and groups of troops dropped on airfields to sabotage the aircraft.
The top scores of the rifle shooting exercise could be put on the top of the hangar roofs in a sandbagged enclosure with boxes of ammunition and 2 rifles each to act as snipes. Brilliant! (Cpl Chalky White- fitter armourer and myself – fitter greatly honoured and gracefully refused! )
Swanton Morley was my last station with 152, It was a different life working in the flights after the hangars. A corporals duties were different more disciplinarian than hands-on servicing, for instance I was in charge of the form 700's (Making sure all daily inspections were carried out, all trades, signed for, times of take off and landings, total hours flown etc.)
We got a new Squadron Leader a new F/Sgt Discip, I met in the squadron orderly room, in my working dress, hat on the back of the head, wellingtons (gum boots) turned down at the top (Very Muddy) no tie, trouser buttons undone, longish hair not very close shaven, we had been on stand by from dawn. He was shocked to say the least. I think he had words with our new C.O and ordered a "Bullshit" parade to introduce the new C.O.
Sqdn Leader Darwen . I was told he was in Café De Paris in London during a blitz and his wife was killed in it. The first time I met him on the dispersal he was looking at a Miles Magister (two seater light monoplane) He asked me who did it belong to ? I said you Sir more or less, in he gets, starts it up and takes off, gave a lovely display of low flying. F/Lt Cox grabbed hold of a broom and tried to shoot him as he shot passed.
The four Corporals in "B" flight had a very nice surprise when the squadron leader visited us one day said "At ease" , I have noticed you four and what a good job you're doing. We all got a Superior on our conduct sheets.
Another two outstanding flying incidents occurred at Swanton Morley all the senior officers had been called to Command Headquarters (I have a feeling it was to do with the "Big Wings") anyway F/Lt Cox had a call to go and join them, as I saw him off I said you realise you the senior Flight officer on the station, how about a proper spitfire "Take Off" He taxed away, far side of the airfield and took off, airborne, wheels up, sink down still the prop cuts the grass straight towards us pulls the stick back- tail wheel touches the ground and how he missed the big tent behind us I'll never know. Didn't he tear me off a strip when he came back.
The other incident referred to the squadron at Swanton 105 (Blenheims) we passed their hangar often and I believe it was their C.O's aircraft stood in the doorway . On it's nose was a screamer I believe and also the painting of a spider hanging from it's web with bombs dropping from it's guts and the words"The screaming Shits". A couple of us were returning from tying down some spits late evening when a twin engined aircraft went across the airfield at high speed and low altitude , climbing turn, beautiful landing. A mosquito , 105 were taking their first delivery. I met Geoff De Havilland later at Boscome Down and I'm sure he certainly looked like the pilot who climbed out of the 105's No 1.
I cannot recall the station Commanders name at Swanton but I do recall our Corporal in charge of parachute packing was caught with the buttons of his greatcoat undone in Norwich by the military police and placed on a charge. Crimes committed "Off Camp" were dealt with by station Head Quarters, during his "Telling Off" the C.O. Noticed the Corporal kept looking at the clock and asked him why. The corporal said "I'm going on leave and don't want to miss the train" Grp Captain "case dismissed" and get my chauffeur to take him to the railway station. A good parachute packing N.C.O was valuable commodity.
72 Squadron, Church Fenton
152 Squadron, Aklington 1/10/38, Warmwell 12/7/40, Portreath 09/04/41, Snailwell 25/08/41, Swanton Morley 31/08/41.
350 Squadron, 13/11/41 - 03/07/44.
Many thanks to Alfie for his memories.
Alfie will be 91 this year, I'm so glad I had the chance to met him at this home in Weymouth on the 15.05.2011
© 152(Hyderabad) F Squadron 1939-1967. All Rights Reserved.